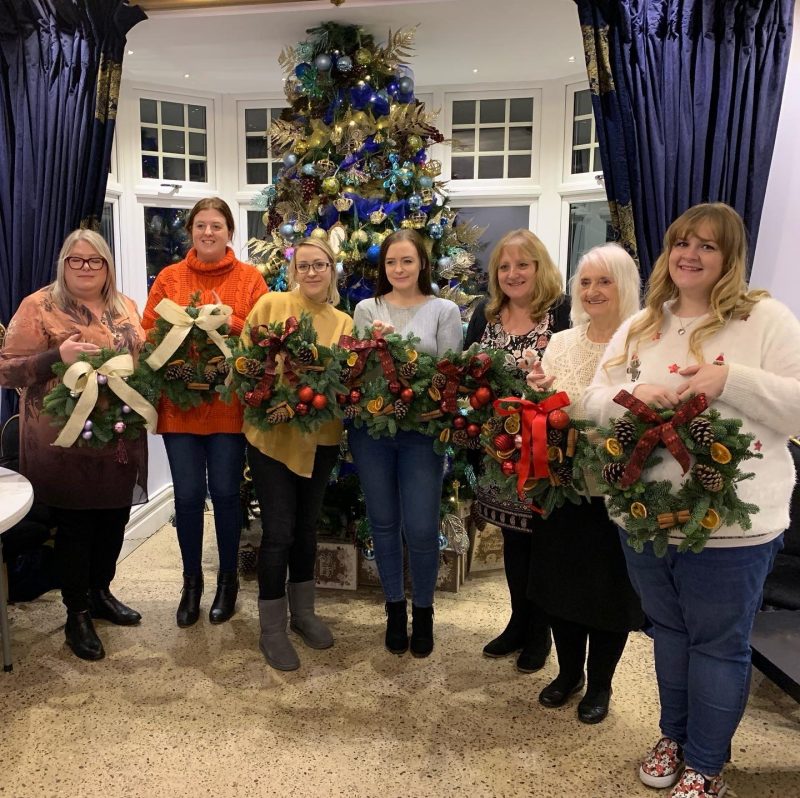 With Christmas fast approaching we reminisce on last year's Christmas fun here at Grimscote Manor, with one of our favourite memories being the Christmas wreath making workshop by 'Scarlett's Florist'.
The afternoon began with guests arriving and being seated to their tables set up individually for their group booking, they were greeted with a selection of chocolate fudge brownie, profiterole, chocolate strawberry and of course mince pies, the food is also accompanied by a warm glass of mulled wine or hot chocolate to each guests preference. (this is included in the £40.00).
Once everyone had settled and were ready Wendy began the session off with a demonstration of how to make the Christmas door wreaths, starting with the moss base to covering with fresh spruce. Then decorating with the Christmas baubles, ribbons, cones, and dried orange slices all of which are included in the £40.00 package the only thing you would need to bring is a pair of scissors (if possible).
Once everyone knew what to do, the wreath making began!
With all the challenges 2020 has brought we wanted to lift everyone's spirits this Christmas. Join us for another fabulous wreath making workshop on Sunday 29th November 2020 (socially distanced of course) great for beginners and experience alike.
Let's spread some Christmas cheer!
(The wreath making workshop takes place on Sunday 29th November 2020 and is £40.00 per person, this includes a selection of snacks, a glass of mulled wine or hot chocolate, the wreath, moss base and decorations)
For more information or to make an inquiry please get in contact by
Phone: 01675 464222
Email: info@grimscotemanor.co.uk