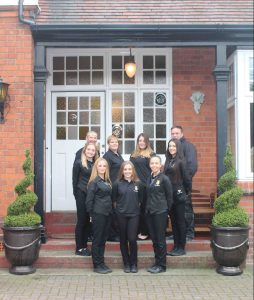 Our Promise to you
At Grimscote Manor we have been proactive to the outbreak of Covid-19, to protect the well being and "'duty of care' for our staff, customers, and anyone else who visits the hotel. This means we must do all we possibly can to support their health, safety, and wellbeing. Ahead of opening, we have reviewed all cleaning procedures and protocols across all areas of our Hotel. Here are some of the new measures we will be adopting to keep our guests safe. Check out our Covid Certificate Here
Our responsibility
It is our responsibility to ensure that social distancing is adhered to. Grimscote Manor Hotel will follow government guidelines regarding social distancing.
We have put a number of measures in place to aid social distancing. These include:
· Reducing numbers of staff on-site at any one time
· Rearranging seating areas to adhere to the social distancing measures
· Implementation of a one-way walk system in reception
· Where possible one member of staff in each department at any one time
· All members of our team to stay in their designated areas only
There are a small number of tasks that have been identified where it is not possible for staff to maintain social distancing. Where this is the case, the task has been risk assessed and specific PPE have been put in place. Any staff undertaking such a role will be briefed prior to undertaking the work.
• We have provided Wall mounted Hand sanitiser that has been installed by all entrances, reception, function suite doors, lift, and each floor of accommodation. All antibacterial soap, in staff areas have been dated on opening so the correct procedures can be monitored.
• All public areas have had a new cleaning schedule put into place of a 2 hourly cleaning process for all high touch areas using effective cleaning products, starting from 6.30am to refresh all corridors and banisters before guests depart
• We have disinfectant Mats outside the main entrances into the hotel, which are filled and cleaned daily
• We have adopted new measures to ensure the safe handling of items within our hotel, to keep our team and guests safe.
• As well as thorough cleaning from our housekeeping team, guests are encouraged to use the alcohol gel, antibacterial soap provided.
• Risk assessments have been conducted to ensure the correct control measures, including PPE have been considered. Face coverings are available to all team members.
• To protect all at reception we have purchased a Perspex screen
Guest Bedrooms
We have reviewed our already thorough cleaning procedures, so our guests can relax and enjoy a great nights' sleep, in a safe room.
• We have removed all reusable items from our rooms, including cushions, bed runners, and printed paper information sheets.
• Where possible, the allocation of rooms will be rotated to provide a 'rest period' before new guests arrive.
• All rooms will be deep cleaned on check out
• We have labels for the TV remote's and phones after sanitation
• All bathroom amenities wrapped in paper have been removed
• Tea, coffee facilities have been placed in a sanitised sealed container, and closed and sealed with a Tamper Evident Security Stickers, Solitary Walker Safety Prevent Opened Warranty Void Labels.
Breakfast and Dining
• We have adapted our breakfast food offering, by removing of all buffets and open food items. The same variety is still on offer; we will take your order and bring it to you.
• Printed dinner menus have been replaced with new disposable menus and a reduced choice which will be changed daily.
• We have taken the necessary steps to space our seating in accordance with social distancing measures. Socially distanced, yet hospitable.
• On pleasant evenings, the option to eat outside still adhering to government guidelines will be available.
• Room service is available in preference, which instructions on ordering will be given on the procedure of delivery
• Grab and Go breakfast is available if preferred, to be preorder the evening before
Events
• Social distancing across all of our meeting and event space with new measured capacities.
• All our public and function areas are controlled with new deep cleaning procedures and all touch points sanitised regularly.
• Bespoke food and beverage options are available for successful socially distanced events and private functions
• The host of the function or table will have full responsibility to provide all contact details of all the guests within their party adhering to government guidelines on track and trace. On receipt, we will sign for and give you the option after 21 days if you would like us to shred or pick up. On pickup, this will be signed for again by both parties.
Our Team
• For our team, we have provided their own wash bag, which holds a mask per person (all made out of different materials) a set of gloves, housekeeping to have arm coverings and extra PPE. This on collection and disposal will be signed for by each member of our team and witness by management at the start and end of each shift.
• Specially allocated wash bins have been provided for staff's used PPE which will be boiled washed every evening
• All Members of staff have carried out the "Corona Virus Taking proactive action" online course
• All staff are returning back to work with a full retraining programme, that is set out for personal hygiene and all cleaning regimes have been re-enforced and adapted to meet the government's new guidelines.
• All our team have received and understood our Covid-19 back to work booklets which explain symptoms of covid 19 to help identify who may be feeling ill, or are displaying symptoms before their shift starts.  If anyone in each individuals household are showing symptoms of covid-19 then management have to be informed by phone as soon as possible, and then to self isolate for the next 14 days.
• Masks, gloves, aprons, arm protective sleeves, tabards, all of which are given out by management for each member according to the departments they work in.
All PPE including wash bags are fully machine washable and therefore are freshly
Sanitised after each shift
· Reusable
· Machine wash at 40degrees
· Tumble dry
We are looking forward to welcoming you, our guest's back, to make new memorable moments for you to all cherish. We are confident that we have taken the necessary steps to keep our guests and teams safe.
We'd ask all our guests to respect the measures we have put in place and to adhere to them to keep everyone safe.
If you are traveling or visiting Grimscote Manor, and you or a household family member have any of the Covid-19 symptoms, then please we ask to rearrange your travel plans and don't visit us on this occasion.
Thank you again
The Team at Grimscote Manor Hotel