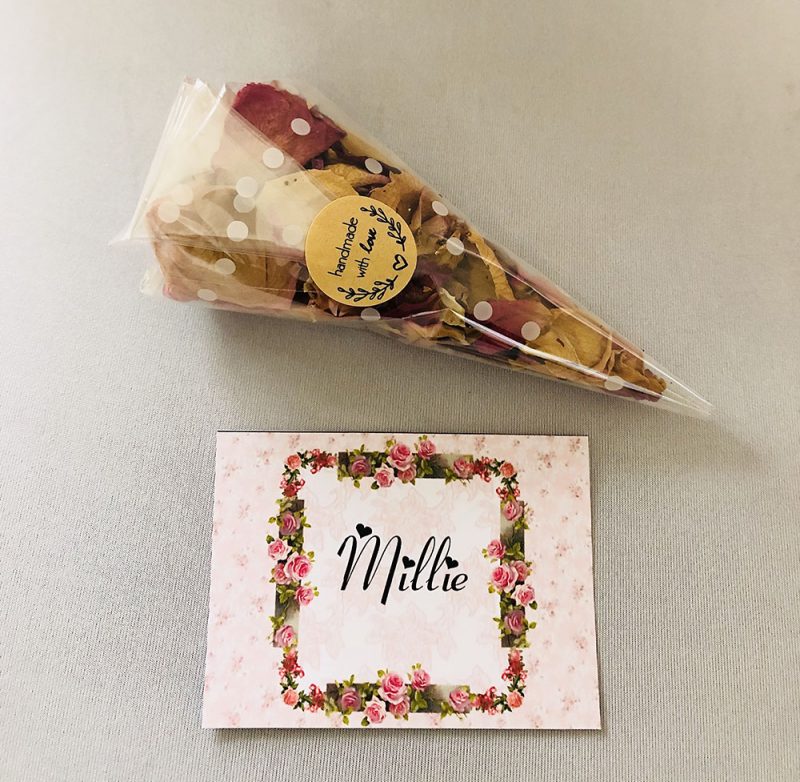 All things pink and beautiful
When we think of weddings we often think of younger couples in their late 20s early 30s, but every so often we get the chance here at Grimscote Manor to celebrate a wedding for an older couple who have found someone to love whether it be for the first or second time. The love we witness between these couples is so beautiful and pure. We recently celebrated a wedding with a lovely couple in their later years of life, who got in contact with us in September deciding they wanted to get married and start their life as husband and wife as soon as possible.
Once choosing the 24th October for their wedding day and choosing light pink and ivory for the colour scheme the rest was left to Gillian to arrange. Starting with the Waldron suite we decorated all the tables with white linen and a light pink overthrow, the chairs were then decorated to match with all of them having white chair covers and every other chair being decorated with the matching light pink overthrow and a lace bow to finish them off, a truly sophisticated design. For each individual place setting we used our glass chargers which then had our covid friendly napkin pouches containing starter, main and dessert cutlery for each guest. Every place setting had a name card which had been decorated by Chris to match the elegant pink and ivory colour scheme, we also made a matching table plan, table numbers and civil ceremony place cards for each room. To top off our tables we had matching centre pieces consisting of the lovely floral arrangements made by Gillian in the same colour scheme with our silver candelabras placed through the centre. The bride and grooms cake and cupcakes for the guests stood on our ornate square cake stand with the sword ready to cut the cake, this then shared the table with our beautiful cream and gold traditional post box for the guests to post their cards through, our team then take that up to the bridal suite at the end of the afternoon.
The day was then ready to begin with the bride arriving at 11am using one of our rooms in which she is greeted with a bottle of Prosecco and some chocolates to treat herself to as she begins getting ready for her special day. The groom and the rest of the guests slowly began to arrive around noon. They were taken to their allocated room to watch the ceremony. Two rooms were in use the George Lewis room was set up for 13 guests, another 15 chairs had been set up in the Guild allowing the other guests to watch the ceremony virtually. We ensured government guidelines were followed by making sure all chairs were split into groups for each household. Both rooms were decorated in the chosen colours, with name cards and a cone of rose petal confetti for each guest to shower over the newlywed couple.
Guests watched as the radiant bride, dressed head to toe in pink, glided gracefully down the rose petals aisle and watched Pat and Malcolm make their vows. The ceremony was followed by a glass of prosecco or Peroni whilst the photos were taken. The couple chose not to have an official photographer instead the children had cameras and were taking lots of candid photos as were other guests using disposable cameras the couple had provided.
Once the mini photographers had finished, the guests moved to our Waldron suite for their meals, which they had pre-ordered from our mini al A carte menu to cater for all tastes was enjoyed by all and rounded off with a pink prosecco toast to the happy couple.
The couple decided to end their afternoon with friends and family at 6.00pm and to enjoy a relaxed evening in the Bridal Suite opening their cards and gifts.
We have worked hard at Grimscote Manor to make sure the government guidelines are being followed. On guest's arrival we asked them kindly to wear masks in public areas unless seated. Due to our layout we are fortunate enough to offer a civil ceremony room for 13 guests and the two registrars and then the remaining guests to seat in a virtual civil ceremony room where there is a live feed of the wedding taking place. Before the bride made her entrance a member of the hotel's management team made a quick announcement about the rules we have put into place and expect all to follows:
Please use hand sanitiser when moving around the hotel they are located at every doorway,
Masks to be worn always whilst moving around the hotel, once seated they may be removed.
All tables are set out in groups of 6 maximum (table plan from bride and groom) but please do not move around other tables
All drinks are ordered and served via table service, so please if a member of staff has not come round and asked recently then please give a wave.
All our team will be wearing masks when serving food and around the hotel
When travelling through the hotel please stay left in the corridors
All areas are cleaned thoroughly throughout the day including toilets
Last orders will be at 9.20pm and all must be locked up by 10.00pm for residents included
At Grimscote Manor we put the safety of our guests first by following the government guidelines.
https://grimscotemanor.co.uk/our-promise-to-you/
This wedding was just as beautiful and glamorous as any other, showing us age is no barrier to romance or glamour. In fact one of the best things about this wedding was the fact that it was purely based on the happy couple, and the obvious love they have for one another.