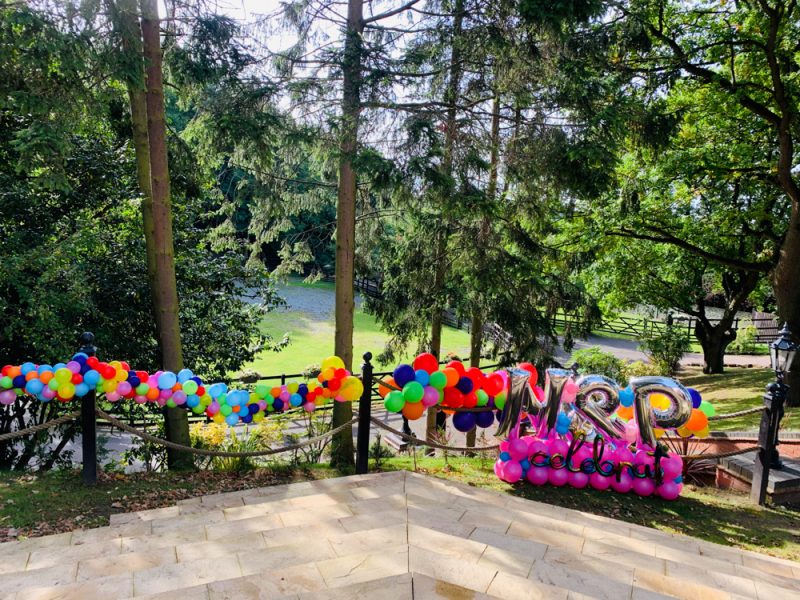 Once restrictions began to ease, we were over the moon to be able to hold our first socially distanced wedding since lockdown, this bright and colourful wedding was just what we all needed.
At Grimscote Manor we were honoured to be asked to host "Mr pinks" wedding, they are the owners of the dry cleaners and balloon shop on Coleshill high Street. We work alongside all year during different functions as they provide our backdrops and individual balloons for our events.
Neil and Paul's original wedding plans had involved a wedding reception for 20 guests in the day to watch as they made their vows followed by an afternoon tea for lunch  and then on the night another 80 people to join for dancing and a hot finger buffet down in the marquee, unfortunately our couples plans had to be postponed. Still wanting to begin their new life as a married couple they decided that as soon as the restrictions were lifted they wanted to go forward with their new Covid friendly wedding plans which included 30 guests celebrating with a mix of afternoon teas and ploughman platters out on the terrace.
Our couple's day began at the registry office in Birmingham where they stood in front of their friends and family and recited their vows to one another, allowing them to finally begin the rest of their life as a newlywed couple. The grooms and their best men all wore different colour suits creating a wonderful rainbow of colour that couldn't fail to bring a smile to everyone's face. However, the real stars of the show were the couple's dogs who also dressed up for the celebrations one wearing a pink frilly tutu style dress and the other in a suit.
The guests slowly began arriving at the hotel, in which they were greeted with a glass of prosecco and a plate of hors d'oeuvres, slowly they began to take a seat outside on the terrace where it had been decorated to our couples specifications. The tables were covered in white linen with black table runners, to contrast with the bright multi-coloured flowers placed on mirrored chargers as the centrepieces, these were gifted to Neil and Paul by Penny Johnson florist on Coleshill high street. Each place setting then had a small plate with black covid friendly napkin pouches filled with individual cutlery and confetti cones in. Balloons featured heavily in the decor with a multicoloured balloon photo wall situated in the Waldron suite for guests to take photos with as they walked in, along with the cake table which held the beautifully decorated two tier cake on the round cake stand and not to forget our post-box which took its pride of place next to the cake, to finish it off the table was surrounded by a strip of balloons. We then had a gorgeous balloon archway on the terrace with balloon pillars to match and bring it all together.
Once all the guests were settled and ready, we were able to serve the food, with the grooms choosing a mix of Gillian's famous afternoon teas along with the delicious ploughman's platter. With smiles all round we left our guests to enjoy their food ensuring all tea and coffee was topped up when needed. To finish off their celebrations our happy couple came into the Waldron suite for the cutting of the cake which of course could not be complete without the confetti cannons to shower the guests in colour.
We do all we can here at Grimscote Manor to ensure our guests have an amazing time celebrating with ones they love in a safe an covid friendly environment which is why we ask all our guest to follow the rules we have put in place;
please use hand sanitiser when moving around the hotel they are located at every doorway,
Masks to be worn always whilst moving around the hotel, once seated they may be removed.
All tables are set out in groups of 6 maximum (table plan from bride and groom) but please do not move around other tables
All drinks are ordered and served via table service, so please if a member of a staff has not come round and asked recently then please give a wave.
All our team will be wearing masks when serving food and around the hotel
When travelling through the hotel please stay left in the corridors
All areas are cleaned thoroughly throughout the day including toilets
Last orders will be at 9.20pm and all must be locked up by 10.00pm for residents included
At Grimscote Manor we put the safety of our guests first by following the government guidelines.
https://grimscotemanor.co.uk/our-promise-to-you/
This wedding really was a lovely reminder to us all that love is not cancelled and here at Grimscote Manor, we were more than thrilled to be able to be a part of the wedding celebrations.