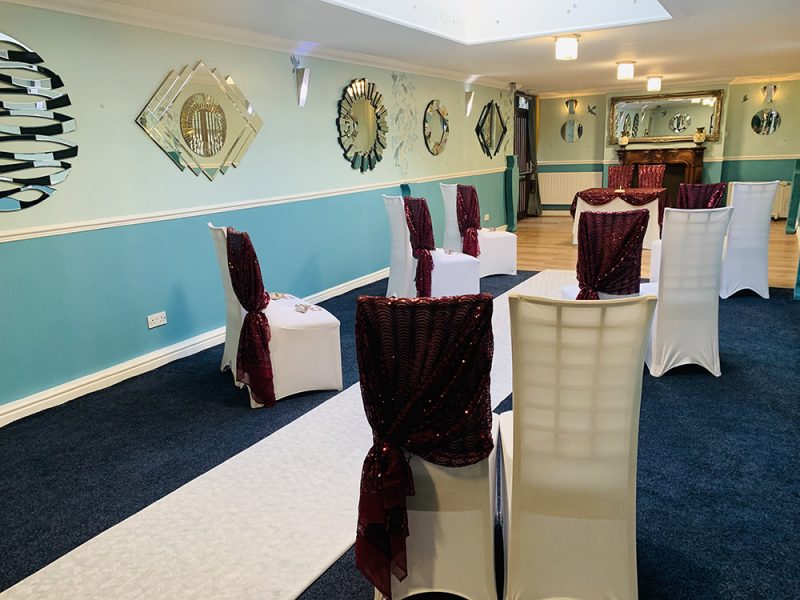 Here at Grimscote manor we have done all we can to help our future brides and grooms in every possible way that we can during these uncertain times and we thoroughly look forward to welcoming them on their special day whenever that may be.
One of our most recent weddings was with a lovely couple whose original plans were to get married in Jamaica, unfortunately due to lockdown this was cancelled. Theresa and John rang up for a quote to see what we were offering at such an awful time of the year for later on 2020, with the uncertainty of being able to travel abroad and that long haul they decided they wanted to get married as soon as they could and start a new chapter of their life as a newlywed couple.  We were more than thrilled to get the chance to be a part of their big day.  Once the restrictions began to ease and weddings were once again allowed Theresa and John came to visit us and have a look around at what they had booked, we booked two dates for them Friday 9th October 2020, Thursday 29th April 2021.
Our beautiful bride started her day with a lovely, home cooked breakfast getting her ready for all the preparations for her big day. A bottle of Prosecco and chocolates for the bride to treat herself whilst getting ready helped to add to the celebration feel.
Their wedding package included a civil ceremony room with a PA System, a virtual civil ceremony room where the remaining guests could watch a live feed of the wedding. Both decorated in Claret and white, Theresa and John left the decoration to us and what we though looked WOW. The tables had white linen on, and the chairs had white chair covers on, we also decided on sequin overthrow for tables and chairs which were finished off with a pearl heart on the back. The tables were accompanied with glass chargers that sat our bone china crockery and our covid friendly napkin pouches filled with individual cutlery in. In the centre of the tables we used hurricane lamps filled with white and red roses with crown tea-lights surrounding the centre piece.  Chris is part of our design team, he matched the colours of the wedding to make a beautiful table plan, place cards, table numbers and civil ceremony place cards for each room. There beautiful cake stood on our ornate round cake stand, and sword to cut the cake, this shared a table with our beautiful cream and gold traditional post box that our team empty and put all your cards, and gifts into the Bridal Suite as the bride and groom talked with there guests.
The exquisite George Lewis room was ready and waiting, decorated in our couples chosen colours of claret and white with chairs set up on either side of the petal covered aisle. As the guests arrived, they were greeted with a glass of buck's fizz each to get them in the mood for the celebration.   On each place setting was a name card which was personally designed to suit Theresa and Johns colour scheme and then a sanitised and sealed cone of homegrown flower petals for confetti provided by the Grimscote Manor grounds in the summer.
Then it was time for our lovely couple to get married. A beautiful civil ceremony with the smiling guests looking on as the happy couple walked down the aisle. Another 15 guests sat in our beautifully decorated Guild room sharing the wedding virtually. The ceremony was followed with delicious canapés for the guests whilst the photographer captured the day in all its glory. The canapés were a selection of onion rings, chicken satay sticks, sausage rolls, chipolatas drizzled with honey, and mini homemade quiche
An early dinner followed, where the bride and groom chose to have a mini A La carte due to there numbers, every guest could pre book their meal. All guests enjoyed a glass of wine with the meal, those with special dietary requirements were catered for accordingly. Throughout the meal the conversation flowed and the love between the bride and groom glowed around the room for all to see. To end the lunch with the speeches which a toast of pink prosecco rounded off this happy occasion.
WE have worked hard at Grimscote Manor to make sure the government guidelines are being followed. On guest's arrival we asked them kindly to wear masks in public areas unless seated. Due to our layout we are fortunate enough to offer a civil ceremony room for 13 guests and the two registrars and then the remaining guests to seat in a virtual civil ceremony room where there is a live feed of the wedding taking place. Before the bride made her entrance a member of the hotel's management team made a quick announcement about the rules we have put into place and expect all to follows:
please use hand sanitiser when moving around the hotel they are located at every doorway,
Masks to be worn always whilst moving around the hotel, once seated they may be removed.
All tables are set out in groups of 6 maximum (table plan from bride and groom) but please do not move around other tables
All drinks are ordered and served via table service, so please if a member of a staff have not come round and asked recently then please give a wave.
All our team will be wearing masks when serving food and around the hotel
When travelling through the hotel please stay left in the corridors
All areas are cleaned thoroughly throughout the day including toilets
Last orders will be at 9.20pm and all must be locked up by 10.00pm for residents included
At Grimscote Manor we put the safety of our guests first by following the government guidelines.    
https://grimscotemanor.co.uk/our-promise-to-you/
Theresa and John's wedding proved that a small intimate wedding in our beautiful surroundings is the perfect start to married life. A pandemic clearly cannot stop love conquering all and here at Grimscote Manor we are ready and waiting to be part of your family celebrations.